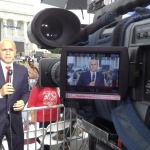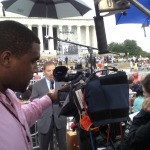 Imagination Media is recognized by the U.S. Senate and House News Galleries as a professional news gathering organization.  When your station's Washington bureau is unable to provide you the custom footage you need, call us.   If you have no Washington bureau, Imagination Media can provide your local news station with Washington, D.C. access and presence at a fraction of the cost of establishing and maintaining even a small bureau in the nation's capital.
Every day, representatives from all fifty states and hundreds of countries are working in and around Washington D.C.  Every day, your television news station covers local issues worthy of  input from your representatives in Washington.  However, getting a particular official on camera can be all but impossible when you do not have a D.C. based crew at your disposal.  Now you do.
Imagination Media will shoot and edit custom news content for your local market and upload it to our or your FTP server for you to download and use.  Now every local story can have that national perspective.
THE BENEFITS:

BEAT THE COMPETITION.  If you currently have no network bureau, we provide your local news station with Washington, D.C. access and presence at a fraction of the cost of establishing and maintaining your own Washington bureau.  Imagine how surprised your competition will be when they start seeing custom footage and exclusive interviews from Washington on your broadcasts… not theirs.
ACCESS.  Our professional ENG photographers have decades of experience covering Washington for every major TV network  These guys know their way around.  Our shooters have Capitol Hill and White House Press Credentials and can capture that essential congressional interview, hearing, or White House press briefing.  We are also members of the National Press Club and can cover press conferences there.
COST.  Hiring us is much more cost effective and efficient than paying for your home town crew to travel to Washington, D.C. to cover a story specific to your local market.   We have excellent photographer-editors who can work independently or with your reporter visiting from out of town.  We can even provide a field producer and reporter if needed.  We shoot, edit and feed you the story online via FTP.  Now you have the option of getting the Washington angle on your story without the cost of travel and hotel expenses or the productivity cost of running short staffed while your staff crew is out of town.  Give us a call or email and we'll figure out the best and most effective option for you.
FLEXIBLE BOOKING.  In addition to providing full-day and half-day photographer bookings, Imagination Media provides "one-hour" bookings for single SOTs or VOs.  At last!  Why hire for a crew for an entire day when all you want is a single interview or a little b-roll?  Our "one-hour" rate allows you to hire our camera crew for one hour on location to capture the footage you need.  So, whether you need a quick SOT, a simple VO, or a full package complete with fully lit interviews and stylized b-roll we have you covered.  Now you can finally get that much needed file footage of your area's congress person in their DC office,  cover your local Spelling champ's visit to D.C. for the National Bee,  or get an on-camera reaction to a local issue from your representative in Washington without having to book a crew for more time than you really need.
MARKET EXCLUSIVITY OPTION.  Imagination Media is an independent video production and news gathering company which allows us to serve all networks and all stations in all markets.  However, we do offer exclusive annual contracts for local stations that want to be the only one in their market with access to our services.  Only one station per media market may enroll in our annual contracts so there is no conflict of interest or risk of redundant coverage.  Annual contracts are made on a first come first serve basis so be the first in your market to sign up and get the news edge over your direct competitors.
FAST FTP DELIVERY.  No satellite uplinks or fiber lines to worry about.  No expensive hardware to buy or complicated software to install on your computer network.  All you need is the high speed internet connection you already have.  Access and download your full broadcast quality HD or SD footage online via your own or our FTP server, Dropbox, Aspera account or other secure portal, and output it to your playback system, record decks, or non-linear editing system.  No longer worry about weather breaking up your satellite feed or waiting for the network feed service to send your story on an expensive fiber line.   And since the file is already in digital form, uploading to your website is a cinch.  If same day delivery is not essential, we can also express ship the footage to you via FedEx or UPS.  And if, for some reason, you would REALLY prefer to have your story delivered via satellite or fiber we can provide that for an additional cost.